High-Performance Skincare
Clean thoughtful formulations, using the latest scientific proven actives to nurture radiant skin
As Seen In
"Skin Saviour - A clean, homegrown brand, CIEL uses safe ingredients that work in tandem to target specific concerns."
These body yogurts strengthen and hydrate the skin's outer layer..get easily absorbed on application..leave behind a smooth, supple finish.
Very Berry Body Yogurt
"The brand delivers result-driven skincare without using any harmful ingredients. In fact, they choose only the finest natural and sustainable ingredients that meet global safety standards."
"Treat yourself to this serum for smooth, bouncy and youthful skin. This is an exceptional anti-ageing treatment that reduces fine lines and wrinkle depth."
Ciel Anti-Ageing Night Repair Serum
"CIEL promises and delivers some top quality face masks...definitely a skincare powerhouse to reckon with."
"CIEL, known for its all-vegan products, is now delighting us with a range of body yoghurts that repair, hydrate, and moisturise the skin from within"
Very Berry Body Yogurt
"This sunscreen offers a broad spectrum of UVA/UVB protection and helps prevent skin tanning and photo-ageing for a more youthful-looking complexion"
CIEL Brightening Sunscreen SPF 40
Wonder Duo! "This ultimate anti-ageing duo of Anti-Ageing Day Cream and Anti-Ageing Night Repair Serum from skincare brand Ciel, works around the clock to keep your skin well hydrated, smooth and bright!"
Anti-Ageing Duo
"Licorice, which is usually used as a natural substance to help the body adapt to stress, has re-emerged as a star product for Indian skin. Ciel offers Sunblock with SPF 50, which has licorice as a key ingredient."
Sunblock SPF 50
"PETA-certified and vegan, this formula leaves your skin thoroughly fresh and also protects skin from breakouts with its antibacterial heart leaf extract"
CIEL Oil Control Face Mask
"This cream is a lightweight moisturiser which has hydrating properties and comes with the goodness of hyaluronic acid. It is enriched with the goodness of green tea and chamomile"
CIEL Hydration+
"Upgrade your PM skincare routine with this Ciel serum to ensure your skin stays youthful for the coming years. It helps repair environmental damage to offer smoother, plumped and lifted skin."
Anti-Ageing Night Repair Serum
The Science of Happy Skin™
At CIEL we choose the finest natural, sustainable, and proven ingredients that meet our standards. Once the ingredients are selected, we conduct efficacy tests to determine the exact levels that maximise their performance on Indian skin while being safe. The claims on our product labels are backed by scientific studies for results that you can see and feel.
While staying strongly committed to potent and result-driven products, we never formulate with Sulfates, Parabens, Phthalates, Mineral oils, Ethyl / Methyl / Isopropyl alcohol, Formaldehyde, Triclosan or any animal derivatives.
KNOW MORE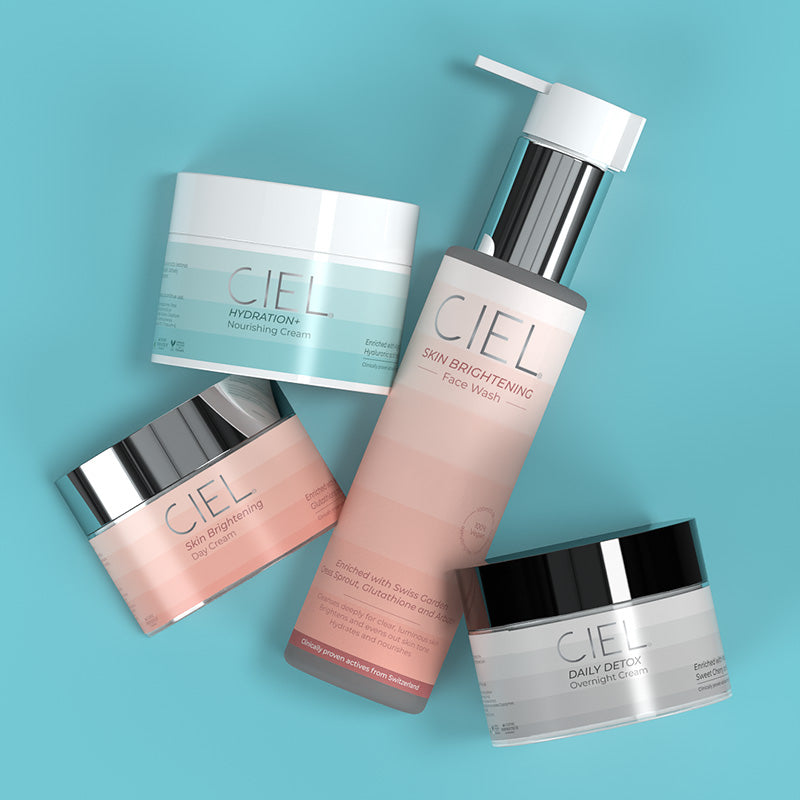 Your Guide To Happy Skin
Happy, glowing skin begins with a well-rounded skincare routine. The goal of any good routine is to maintain and improve skin health, so it's functioning at its best, and also troubleshoot or target any areas you want to work on.
Here's how you can incorporate CIEL's multi-tasking products to help you achieve your ideal skin: